12 November, 2021
5 min to read
Marketing and sales experts know well that CRM & marketing automation minimize expenses and improve performance, but that's not all. It is a robust customer relationship technology that can help your business engage better with clients. The real challenge is understanding how these two instruments work, and whether there is a need to combine them into one single system.
Integrating CRM software into your marketing automation platform is a good choice for businesses. Once you use it, you won't be able to live without it.
In this article, we'll take a look at everything related to these technologies, including their main features and the benefits of integrating them.
CRM and Marketing Automation: The Best of Both Worlds
Marketing automation and CRM software may look rather similar, but they offer distinctive features and serve distinct ends. Thus, the two types of software are even more performative when used together.
Before you know the reasons why CRM and marketing automation tools complement each other so well, we should take a look at what each of these tools does independently.
What is a CRM?
CRM software is an instrument that facilitates contacts and sales, agent performance, and customer relationships across the whole sales funnel, from marketing to client interactions. CRM stores data about the clients, such as how long they are with you, their purchase history, and phone calls. You can use CRM to optimize client interactions, increase sales and customer experience, and upgrade operations.
What is CRM Automation? CRM automation helps to automate sales and customer service. It allows teams to control and operate their interactions with existing and potential customers. CRM automation allows sales teams to automate excessive and tedious customer sourcing and management tasks. These tasks include daily activities such as entering data, updating contacts and clients' data, scheduling your calendar, and updating leads.
To know more about CRM, its types, and features, follow the link to our article "Benefits of CRM Every Business Needs To Know".
What is Marketing Automation?
Now, let's briefly go over marketing automation. In simple words, marketing automation is a tool needed to analyze, optimize, and automate critical marketing tasks and workflows, i.e. lead generation, segmentation, capture and support, relationship, and account-based marketing. Marketing automation is mostly used to accelerate processes, dispense with tedious tasks, and create personalized targeted advertisements to send to leads.
Companies need marketing automation to improve customer service by enabling you to engage leads with targeted content. It is used to grow production, track and optimize customer interactions, convert leads, and improve your company's workflow.
The point of the software is to free the resources of your business, thereby saving you time and money and enabling you to learn more effective targeting strategies.
What is Marketing Automation in CRM?
Marketing automation makes it easier to target leads with personalized campaigns using data. Marketing automation software helps optimize your marketing efforts, run performative campaigns, increase client engagement and produce high profits.
When you develop marketing automation in CRM, it involves:
Creating and personalizing content based on client interaction history.
Developing automated communication for customers and prospects using "conveyors" - sequences of actions that move leads through your sales funnel.
Automating tedious tasks to save time so marketers can concentrate on higher-level activities such as client and prospect interactions.
Core Marketing Automation Features
Tracking Marketing Content
By publishing your content with a marketing automation instrument, you can also check the traffic it receives and its performance. It's an effective way to learn what works, what doesn't, and what can be improved. Studying marketing content is necessary for any good marketing automation platform.
Lead Nurturing
Nurturing leads is a key part of efficient marketing strategies. It keeps your sales reps from wasting time on leads that are not willing to buy. Thus, lead generation is for those new, less mature leads who need more convincing before buying. This is also called "drip marketing" because, in essence, you add small amounts of content overtime to keep your brand in the spotlight. So when they're ready to buy your business is top of mind.
Contact Management
This feature simplifies saving and retrieving contact information. It can also track all the touchpoints your business has established with a contact, so you can see where they are in the sales cycle at any time.
Tracking Visitors
Visitor tracking is required to know who views your company's website and how much time they spend on each page. It also shows you what content they interact with. Tracking visitors is a powerful method to not only know who is viewing your content, but what content they like best.
Automated Lead Assignment
It is up to you to decide what the interest rating threshold is, which indicates that the lead is ready to buy. Once you know what that number is, you can program your marketing automation software to automatically assign the lead a score for the sales representative to review. How you manage your leads and assign them to your sales team is up to you. You can do this in alphabetical order, by territory, in a circular system, whichever suits your organization.
CRM vs Marketing Automation: What is the Difference?
Entrepreneurs often confuse marketing automation and CRM solutions as both of them aid client acquisition and connection. The distinction lies in the way each instrument helps you meet certain customer needs and build relationships with customers at various stages of the buying journey. CRM is usually a full sales-oriented and marketing automation software. For a better understanding, we've laid out what is the difference between CRM and marketing automation in the table below.
| | |
| --- | --- |
| Marketing Automation | CRM |
| Attracts potential clients through diverse marketing channels. | Creation and development of relationships with both existing and potential customers. |
| Targets site visitors, email subscribers, leads, and trials. | Targets potential customers' marketing requirements or sales requirements. |
| Aimed at automating marketing activities such as communications management, campaign management, and client segmentation. | Aim to help businesses with sales funnel, contact and opportunity automation, and management. |
| Only used by the marketing department. | Used by sales and customer service. |
| Gives you insight into how your marketing activities and initiatives are performing. | Give you insight into how clients are interacting with your brand. |
Good examples of marketing automation and CRM systems are Salesforce and Pardot.
Salesforce is one of the most popular CRMs at the moment. Like CRM software, it allows you to chart a strategy for managing your existing and potential customers. Thus, it is strictly sales-oriented.
Pardot is marketing automation software that enables businesses to optimize their email campaigns and automate the journey to client acquisition. It is primarily focused on marketing.
Now, that you understand the difference between marketing automation and CRM, we can move on to the market overview.
Marketing Automation Market Overview
In 2020, the marketing automation market was estimated at the US $3.60 billion. Moreover, it is expected to grow to $11.46 billion in 2027, with a CAGR over the forecasted period of 17.67%. Because of the growing importance of marketing in increasing sales and customer retention, marketing departments are seeing their budgets rise.
The European marketing automation market is expected to grow rapidly during this period, driven by increased marketing investment and the ever-increasing penetration of social media, making Europe a lucrative destination.
Typically, European B2B marketers using automated marketing platforms have stated that they are not making full use of them. Suppliers seek to combine their software platform with marketing services to deliver customized services. This reinforces the concept of Marketing as a Service (MaaS) in the business world. A growing market and a growing number of marketing channels are also encouraging companies to enter new markets, increasing the reach of their business. It prompts marketing growth and pushes businesses to improve automation.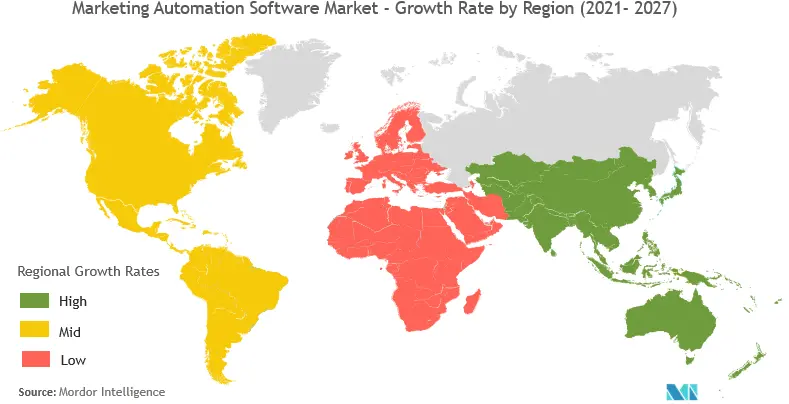 Reasons to Integrate Marketing Automation into the CRM & Benefits for Business
We can endlessly go over the importance of marketing and sales teams. CRM and marketing automation integration is a perfect encapsulation of why these two departments succeed when they work in collaboration and a reminder that more is better—at least when it comes to leveraging your data.
Both CRM sales and marketing automation are of immense value in and of themselves. But neither can reach their full potential without the other. And given that organizations that closely align their sales and marketing efforts see 36% higher customer retention and 38% higher sales gains, it makes sense to combine the two.
If these statistics aren't enough, and you are still thinking why implement marketing automation, below we have listed several problems that marketing automation will help with:
There are Issues in Communication with Leads and Customers
Marketing automation integration helps ensure consistent messaging across the board. Too often, sales and marketing are pursuing different goals, communicating with potential and existing customers, using various buzzwords, or trying to solve different pain points. Again, CRM and marketing automation integration will increase visibility by providing serial and targeted messaging to different audiences and individuals. And if you ever change these messages, both teams can review those changes and make adjustments accordingly.
Important Patterns are Overlooked
When you store data, you run the risk of missing out on key patterns and trends. Combining these two instruments enables you to match your approach and forge more meaningful connections—thereby improving your lead nurturing efforts. You can track things like a decline in engagement. Or, you can define more clearly which customers are ready to upgrade or adjust their package or service offering. Marketing automation and CRM software give you the data you need to make informed decisions about your sales approach, customer service, and product offerings.
You Struggle With Data Hygiene
Much of what you hope to achieve through sales and marketing depends a lot on the overall health of your mailing lists. Regrettably, many businesses struggle with data hygiene. Marketing automation platforms will resolve much of this by leveraging strategic elements such as character development, goal setting, leadership assessment and lifecycle setting, reconfirmation campaigns, and dual-sign campaigns.
You Have Issues Prioritizing Marketing and Sales
CRM and marketing automation instruments together will help your company organize and simplify customer acquisition by consolidating significant operations and information. This allows marketing and sales teams to gain a deeper understanding of the buying journey, which they can then use to better allocate their efforts. Spending good money on bad leads is a serious waste, and smart companies do their best to avoid this mistake.
You Have Issues Converting Leads to Clients
Ultimately, the point of CRM marketing automation is to help your marketing and sales departments convert more leads. And then guiding these leads and existing customers through a longer purchasing cycle for additional revenue. When the two systems are automated and in sync with each other, your teams can view the available data to better understand how prospects and customers are interacting with your company's website and products, allowing you to refine your content marketing.
Stepwise Guide on How to Implement Marketing Automation
To get the best results from software integration, you have to confirm if the two platforms are properly aligned and working together to achieve your goals. Here are four main marketing automation implementation steps.
Stage #1. Personalize Your Marketing and Sales Messages
CRM and marketing automation together with customizing your messages can help you target your audience and generate more conversions, i.e., your CRM will feed demographic data to your marketing automation tool for more in-depth data analysis and efficiency. Marketers can in turn use this data for more targeted campaigns and paid ads.
Stage #2. Set Your Lead Rating
Research has shown that the sooner a lead receives a response, the more likely they are to become a client. CRM lead counting and marketing automation can help speed up and improve the performance of this process by distinguishing which customers are most critical and likely to convert and then send follow-up messages to them.
Stage #3. Dispose of Duplicates
You need to confirm that marketing automation and CRM software don't overlap. While the CRM and marketing automation instruments can bring centralized data and accessibility, it can also mean occasional duplication of tasks, such as double entering customer information. Thus, you should regularly check the system for duplicates which may cause inaccurate reports or compliance difficulties.
Stage #4. Prepare to Adjust Your Practices
After the primary integration of CRM and marketing automation, difficulties may arise over time. Make a plan for how you will efficiently identify, implement, and customize changes in your marketing and sales efforts as they apply to software integration. To get the best results from CRM system marketing automation, personalize your sales and marketing, leverage lead scoring, dispose of duplicates, and be ready to adjust your way of working.
CRM and Marketing Automation Strategy
The strategy of marketing automation has to be modified depending on what instruments you use and for what purposes. So, in case you want to use HubSpot to generate leads with your free eBook, the strategy will concentrate on converting leads using data about those who downloaded the eBook and how your product or service can help solve their problems.
Regardless of what kind of marketing automation implementation strategy you have chosen, here are some best practices to keep in mind:
Know Your Audience
It's impossible to build personalized marketing without understanding who your client is, what their pain points are, and how you can meet them. Create a buyer persona to get to know your prospects better before developing marketing automation workflows.
Know Your Client Journey
Meeting your prospects where they are is a cardinal rule in marketing. You can't do this if you don't know what the client journey consists of. Plan your purchase journey and match your marketing automation to these milestones.
Review Regularly
While marketing automation doesn't require user intervention, it is not a one-off strategy. Review your marketing automation workflows monthly, quarterly, and annually. Marketing automation has to be changed with your company, products, and clients.
What to Look for Choosing a Marketing CRM
Since there are many CRMs with marketing automation features on the market today, you need to know how to find the CRM that best suits your unique business needs. Here are several features to look out for:
CRM Cost
Explore CRM pricing levels. Check how the pricing structure changes based on extra users or features. Then, match the cost against the needs of your company.
Features and Integrations
To increase sales, choose a CRM with core marketing automation features such as account management, mail synchronization, contact management, and automated reporting. Also, make sure CRM is customizable and scalable, so it can grow with your developing business and integration requirements.
Support
Find out if your CRM vendor offers onboarding support. It's critical that articles, videos, or agents are available to help you use the marketing automation features.
Find out the way the CRM team can help you execute the marketing automation system. Explore the CRM interface, noting how simple it is to navigate. You should get a CRM that you can easily teach new team members how to use.
Types of Marketing Automation
Customer Relationship Management Automation
A good CRM stores clients' data in one space. Thus, the marketing team can quickly access important customer data such as emails, phone numbers, location, and other demographic data. They can also see where a particular lead is currently in the sales funnel, allowing them to send out targeted messages to drive conversions.
Email Automation
Email automation affects both internal and external marketing efforts. Externally, email automation enables you to send campaigns by email based on triggers. Internally, it disposes of tedious tasks and contributes to a smoother workflow. A good email automation app has a platform loaded with email templates that marketing team members can customize. No extensive graphic design or coding skills are needed. Thus, your creative team can quickly create dynamic emails using point-and-click functionality to add, remove, or edit items.
Landing Page Automation
Landing pages are critical for higher conversion rates. If your website does not have landing pages, then your site is not optimized. Good landing page software enables the marketing team to rapidly build dynamic landing pages. Thus, marketers can select pre-designed layouts and customize them by adding calls to action, images, and text. An ideal landing page builder can also create sales funnels that lead to complete purchases. Marketers can track where the leads are in the sales funnel and adjust their strategy accordingly.
Web Form Automation
Web forms are crucial to entice visitors to action. Automating web forms is somewhat similar to a landing page builder. Your creative team can create dynamic web forms in seconds. With a user-friendly interface, marketers can customize pre-designed web form templates based on their brand's aesthetic. A good form builder will also provide third-party application integration, analytics, and reporting. You should see how well your web forms are performing and adjust them if necessary.
Social Media Automation
Automated social media marketing takes care of scheduling and publishing content. It also handles cross-posting, conversations, and tracking. If you have content to post to multiple social media sites, the automated program can schedule and publish them across multiple channels. By understanding how well your social media posts are performing, you can dramatically improve your sales figures. Your marketing team can create content that your subscribers want to see, and in return, those subscribers have a better chance of becoming customers. Over time, you will be able to identify your biggest brand advocates on your social media.
Blog Automation
By now, the general idea is that each type of marketing automation has so far been useful for both internal and external marketing. Automating blogs is no different. You can schedule and publish blog articles automatically on your website, and share them on your social media accounts. With built-in analytics, you can also see how well your articles are performing and adjust your blog's content strategy accordingly.
Marketing Analytics Automation
Marketing analytics automation allows for greater control of all kinds of campaigns, including email, social media, blog articles, and ads. With email campaigns, you can easily see the delivery, openings, click-throughs, and bounce rate of every email you send. On social media, blogs, and advertisements, you can track the performance of each campaign and use the information to improve future campaigns.
Marketing Automation Integrations
API Integration
The API integration can be defined as the process in which two or more applications connect through an API to "talk" with each other. This can include applications that perform a joint function or simply exchange information to ensure data integrity. API integration establishes a link between external applications and your enterprise technology stack. In this way, data can be transferred seamlessly between the two systems. Enterprises are now using all kinds of cloud services, SaaS platforms, and enterprise software. Hence, it is important to use API integration to reduce the manual labor required for communication between different applications.
Custom Integration
Custom integration means building a custom software solution that is specific to your exact use case. This code could be as simple as a plugin to shuffle data from one database to another or all the way up to a full-blown customized content management system. Such integrations could require hours, or even weeks of development—each is unique.
Zapier Integration
There are ways to automate actions in almost every CRM, especially if you bundle your other apps with Zapier. You can automatically add new contacts to your CRM when they fill out a form, then automatically email a personal follow-up note two weeks later —anything else you might think of that might be useful for the company.
Marketing automation apps with CRM can go a lot further. They are directly linked to your site or application, adding all of your users to CRM as soon as they sign up. They will then track your site's stats, showing how people recognize you, which parts of your site they've seen, and then pinpoint the prospects to focus your marketing efforts on. They will even automatically send messages to your users to remind them about your product.
CRM and Marketing Automation Software
If you're searching for a tool that matches the best of both worlds, we've prepared a list of top players on the marketing automation market:
Marketo
Marketo is arguably the most popular marketing automation tool. It is one of the most advanced, full-featured tools that not only help marketing experts control email campaigns but also provide great tools for sales teams.
Marketo is a good option for companies looking to leverage many of the tool's features that go beyond basic marketing automation. It's not the most expensive tool, but certainly not the cheapest. If you are not going to use the advanced features of the system, you can get similar results using one of the less expensive tools.
Price starts at $1,195/month
Eloqua
Eloqua provides an extraordinary level of service and is priced accordingly. One of Eloqua's key differentiators is the amount of time they spend educating and helping their users get the most out of the product. Like Marketo, Eloqua also has a great marketplace with lots of third-party integrations.
Eloqua is a great option, especially if you enjoy getting a lot of recommendations from technology providers. You should also consider Eloqua if tight CRM integration is crucial for you.
Price starts at $2,000/month
Customer.io
Customer.io is a tool that will let you get what you want. While that's not all, if you're going to spend some development time on it, you can customize your experience with Customer.io. Another great feature of this tool is its lightweight user interface and fast personalized customer support. Customer.io is one of the new players, but they are growing very fast and deserve attention. Unlike most of the older tools, Customer.io is built to send emails based on events, not just page views.
Price starts at $75/month (also there is a free plan)
Constant Contact
Constant Contact is a popular small business email marketing tool. It provides basic functionality in a way that even non-technical users can easily use it. The simplicity of use and affordability are its key advantages. Whether it's increasing sales, expanding your customer base, or engaging an audience, Constant Contact combines the right tools, advice, and award-winning support that delivers results.
Price starts at $15/month
Outfunnel
Outfunnel simplifies creating deep connections between all your marketing tools and CRM. Synchronize your sales and marketing contact lists around the clock to save time. Set up your campaigns once, and they will run automatically when data changes in the CRM. Record all marketing interaction data (email openings, website visits, etc.) so you can sell smarter.
Price starts at $19/month
Afterword
There is no magic bullet for brand success. However, there are obvious advantages if you want to compete in your field, and CRM and marketing automation integration are some of them.
If your company is growing year after year with a steadily increasing number of leads and clients, then it's time for CRM and marketing automation. Most companies tend to start with a CRM solution to get things up and running. After that, marketing automation development and integration will be the next logical step towards consolidating your marketing efforts into one convenient platform for employees.
CRM and marketing automation are the most performative marketing instruments. Creating and delivering engaging content is the key to winning leads. You will undoubtedly be able to find efficient methods to achieve your sales purposes using any of these platforms. And once you install both tools, combining them into one unified platform will take your business to the next stage of success.
Looking for exceptional marketing automation implementation services for your business? Get in touch with the Ergonized team today!
$previous_post_url = get_permalink(get_adjacent_post(false, '', true)); $next_post_url = get_permalink(get_adjacent_post(false, '', false)); ?>
Previous post
Next post